Dienstag, 17. Januar 2017
Trujillo, Chiclayo and Tumbes
zwinkerschaedel, 03:15h
This blogpost is about the northern Peruvian Coast. After Cusco I flew to Trujillo in the North of Peru to make my way up towards Ecuador. To be honest, I didn't really enjoy Northern Peru that much (with a few excptions). If this was due to the travelling blues or due to everything being less clean (streets, hotels, beaches), I don't know. I will only show you the few exceptions:
Trujillo:
Trujillo is the third biggest town in Peru. It has a very nice and colorfull old colonial city center. In the area there are several ruins of two pre-Inca cultures, the Moche and the Chimu. The Moche culture was dominant in Northern Peru between roughly 100-800 a.D., the Chimu followed later.
I visited the site of the Temple of the Sun and the Moon and had the luck of a very good privately guided tour through the Moon Temple with its beautifull friezes and wall paintings.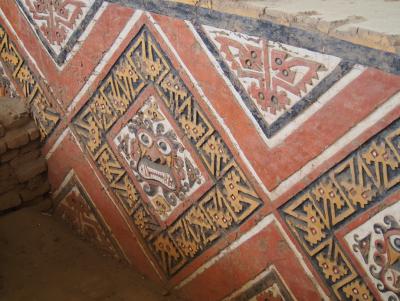 The main Moche God Al Apaec, the Creator
I also visited the huge city of Chan Chan, the capital of the former Chimu culture. With roughly 60.000 inhabitants it was one of the largest cities in the world at its time. Not a lot remains of this city since the Spanish and several El Nino phenomena destroyed the clay structures. Except fot the size I wasn't too impressed...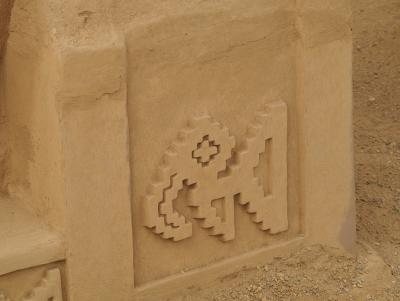 Pelican.
Chimu warrier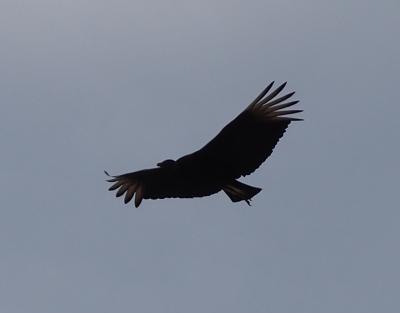 Lots of black vultures were circling around Chan Chan.
I also visited the beach of Huanchaco with its famous Caballitos de Totora, small reed boats that have been used by local fishermen for centuries. Now they are a tourist attraction...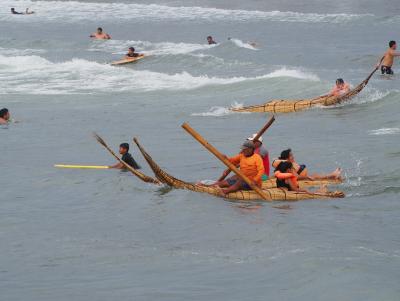 Chiclayo:
After Trujillo I travelled north to Chiclayo which I used as a base to visit the famous Museo Tumbas Teales de Sipan in Lambayeque. This was one of the absolute highlights of my trip in Peru so far and by far the best museum! It is dedicated to findings of tombs in the area in 1987: A local archaeologist noticed a large influx of precious Moche artwork on the black market in early 1987 and through carefull questioning was led to burial sites. He there discovered mostly untouched graves of two Moche rulers (father and son) and a high priest filled with precious artwork and pottery including lots of gold, silver and semi-precious metals and jemstones. The museum displayes the exhibits in the order of discovery and in painstaking detail show the many layers of robes armor and other grave goods. The intricate detail of the artwork is breath-taking and the didactic display is just marvelous! If you are ever in Northern Peru, don't miss this jewel!
Unfortunately (but rightly so) I wasn't allowed to take any pictures in the museum, so I'll have to show you some pix I found online: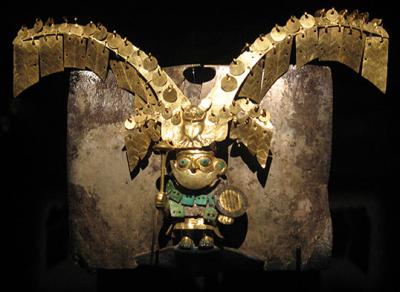 This noseguard was used to cover the teeth of the person wearing it, hiding his "human" characteristics (rulers and high priests were seen as personified gods).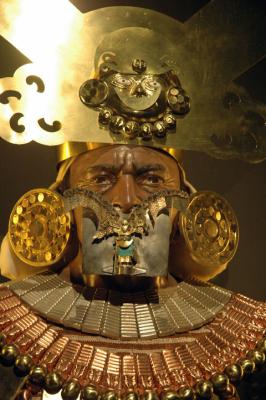 Here you can see how the noseguard would have been worn on a reconstruction of the Senor de Sipan.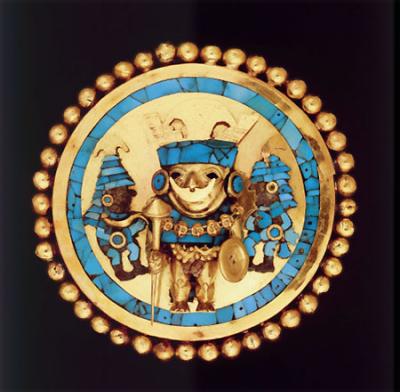 Earrings the size of my palm.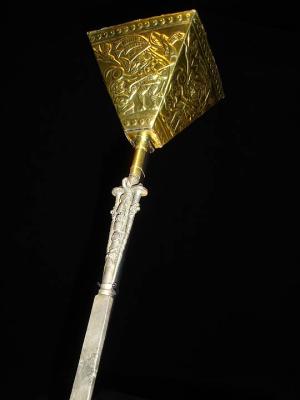 Golden sceptre of the king. He also had a smaller silver sceptre with him, both representing the duality in life with gold standing for the sun and masculinity and silver for the moon and femininity.
Tumbes:
After Chiclayo I travelled to Tumbes, a town 30km from the Ecuadorian border. There are the only mangrove forrests of Peru and I went on a small boat tour to view the Isla de Pajaros, a nesting island of local birds, especially the frigatebird and many types of herons. In the mating season (unfortunately May-June) the male birds develop a bright red gular sack which it inflates to attract females. On the way I also saw lots of pelicans.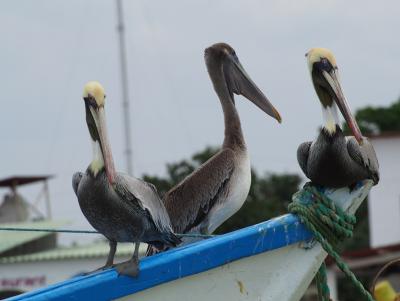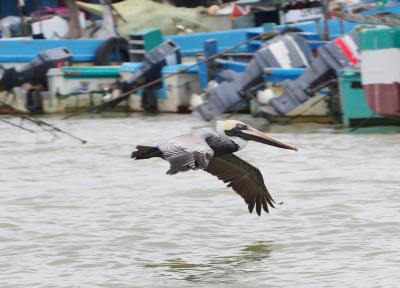 Pelicans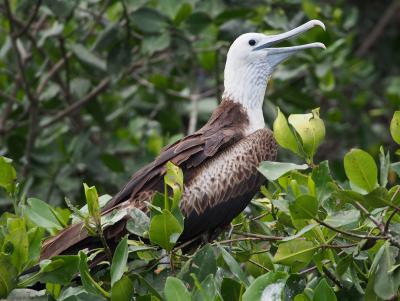 juvenile frigate bird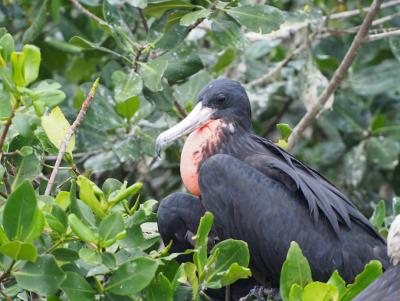 adult frigate bird with small slightly red gular sack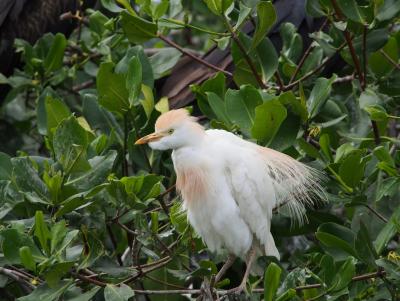 One of the many different herons
All in all I think I will have to visit Northern Peru once again some time. Especially the Northern highlands are supposed to be very nice and I was sad to have had to skip them... And maybe I'll enjoy the Northern coast when coming there with a different mindset...
... link (0 Kommentare) ... comment
Mittwoch, 11. Januar 2017
Lake Titicaca
zwinkerschaedel, 04:45h
As written earlier this journey started right after the amazing experience at Lake Sandoval in the Amazon basin with a shitty bus ride to Puno. Actually not directly to Puno, but to Julianca a city about 30min from Puno where I had to change to a minitaxi. The local travel agency in Porto Maldonado had not booked the journey directly to Puno but to Julianca... So I arrived after a night with only very little sleep to only see the huge amounts of trash next to the street on the short way from Julianca to Puno. Arriving at Puno it was no better: Lots of trash everywhere with smelly sewers, something I had only rarely encountered to this extend here in Peru before. This was more like South East Asia... Thankfully I had planed a days rest in Puno in a "hotel", which I used to the full extend to sleep, watch movies and just recuperate. This was December 31st and I was able to speak to my family and some friends before midnight in Europe. I had a bit of troubles with altitude sickness (Lake Titicaca is at 3810m) in addition to lack of sleep so I went to bed early that day to wake up to the fireworks, watch them a bit from my hotel window and then go back to sleep.
The next day I was collected to go on the classic two day tour to the two natural islands of Amantani and Taquile with a quick stop on the way on one of the floating artificial islands of the Uros people, a tribe that has been living on these artificial islands for hundreds of years.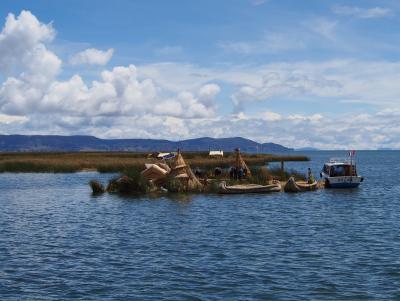 This is such a floating island. They used to be "nomads" living of the lake by fishing, collecting eggs of the many water birds here and "harvesting" the reeds for consumption. Nowadays their main income are the many tourists that visit them every day...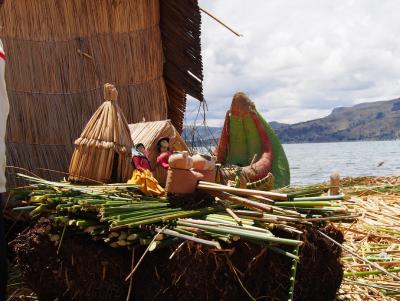 This picture shows a minature model of such an island. The base is composed of squares of reed grass roots that float and are strung together to then be covered by more reeds in overcrossing patterns to give it stability.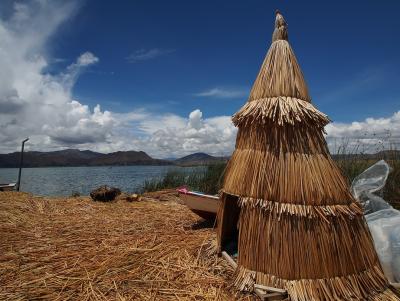 On it they build their houses of reeds. Usually one island holds one clan, maybe two to four small families.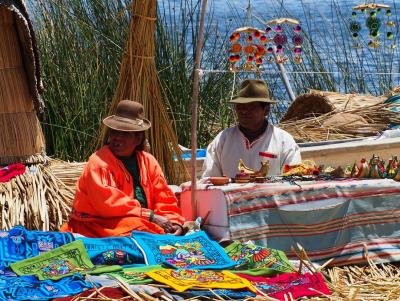 The chief and his wife of the small floating island we visited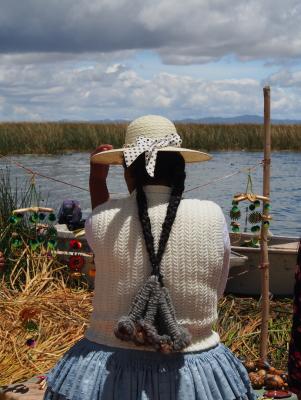 This picture showes a member of our "tourist" group that was actually from Peru and is a good representation of the local dress attire and hairstyle of women in the southern highlands of Peru. You'll find pictures like this in every guide book to Peru.
After one hour on the floating we took the slow two and a half hour boat ride to the island of Amantani. Here we stayed with local families. In the late afternoon we took a three hour hike to the top of the Island (at 4100m you could feel the thin air again...) to look at two ruins before retourning to the families. I really liked the landscape of Amantani, very peacefull and quiet!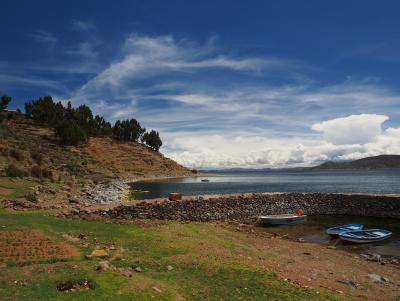 Amantani harbour

View on the lake

On top of Amantani
On the way back home we passed the main square where the islanders were celebrating the new year with lots of music and lots of cervesa (beer). After dinner we were dressed up in traditional clothes to then meet at some local community center to dance and celebrate with the other tourists, also dressed up. Only that we (the three of the 30 of our group that stayed at one family) were the only ones to show up, so after 30min we went home again (thankfully since I was pretty tired).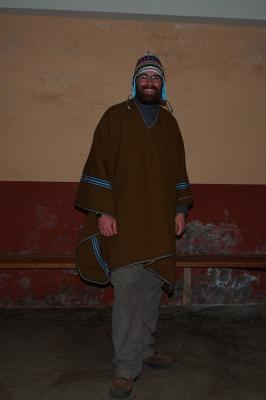 Me in a traditional hat and Poncho.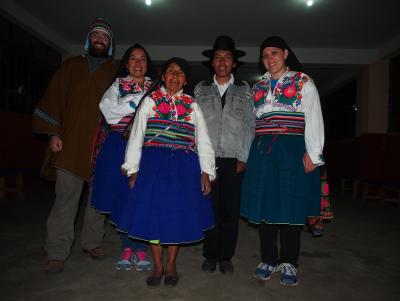 The host mum with her son and the two Columbian tourists that also stayed at the same family.
The next day we left early for Taquile another small island with the famous "weaving men". Here men have been weaving special garments for a long time producing their special very colorful attire. But that was also the only interesting thing about the island and I was actually happy when we were on our way back to Puno.
All in all I wasn't all that impressed with this part of my trip, but to be fair, I think I had the "travelling blues" that continued for the next few days in Cusco (two days after taking the overnight bus again from Puno) and also these past days.
... link (0 Kommentare) ... comment
Donnerstag, 5. Januar 2017
Sandoval lake in Tambopata
zwinkerschaedel, 02:10h
On the Eve of the 25th I left Cusco by bus to Porto Maldonado (roughly 11h), the capital of Madre de Dios, the state including the southern Amazon Basin of Peru. Here I was collected by the local tour agency and met my guide and two other tourists joining me for part of the trip. We took a boat for about 45min and then entered the Tambopata National Reserve where we walked another 50min through the Rain forrest to Sandoval Lake, our destination. We took a canu to our lodge, the Maloka Sandoval Lake Lodge. On the way we did our first wildlife spotting along the river banks and saw e.g. the famous Hoatzin, Hoatzin, prehistoric bird that is apparently more related to the archaopterix than to other birds. It still has claws on his wings (several while young, one as an adult) that it used to climb the trees. A unike and quite ugly bird also called "stinky bird" due to it fermenting leaves in a second stomach and also "asthmatic bird" because it's croak is similar to an asthmatic wheeze. We also saw our first monkeys, squirrel monkeys hopping from tree to tree and caimans.

The canus we took every day on the lake.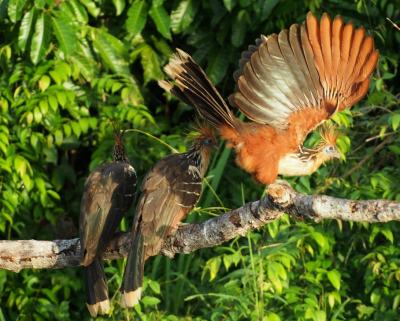 Hoatzin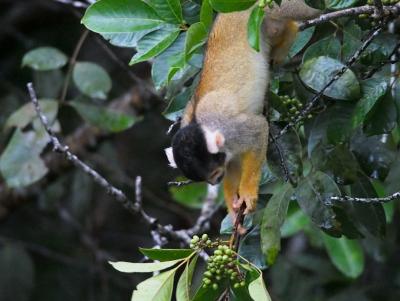 Squirrel monkey
Once at the lodge we had Lunch and then a well deserved siesta before setting off again in the canu for more wildlife and searching for caimans in the dark on our way back. The caimans are easy to spot with a flashlight due to the orange reflection of their eyes.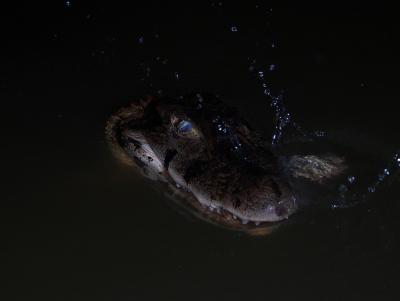 This is Farruco, a rather large caiman that lives close to the port of the lodge. The cook Elmer actually can call him to feed him fish.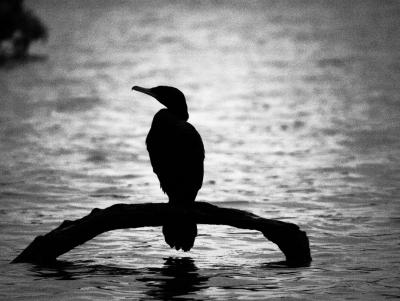 Cormoran siluette at sunset.
On the second day we took a canu again and had the luck to encounter the big family of giant Otter that live in the lake (There is a total of one family of 7 and a single Otter in the lake). They were sunbathing on a log. We watched them for 30min to then continue for a walk in the forrest getting to know different plants and the giant trees that grow here.

The whole Giant otter family resting on a log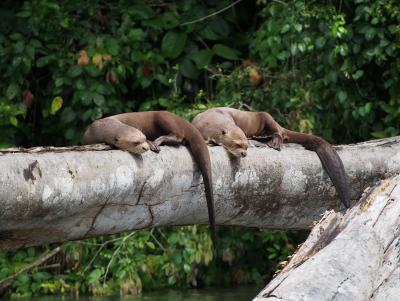 sunbathing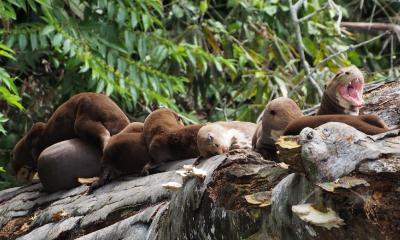 I was lucky to catch a yawn.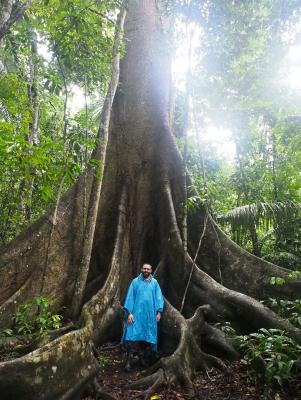 Me in front of a giant Ceiba tree.
That afternoon we had more luck to see the red howler monkeys that fill the evenings and mornings with their song.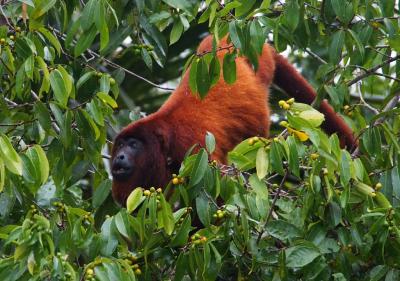 The third day was dominated by rain and not very spectacular. We went on a jungle walk in the rain and in the afternoon again by canu. At night we went on a short "creepy crawlys" tour searching for different insects around the lodge buildings.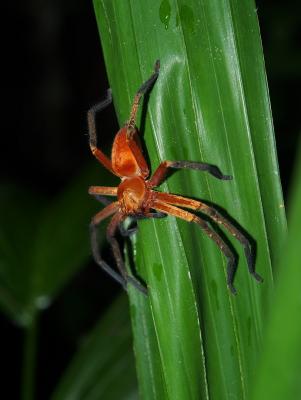 On the fourth day we got up at 4:30 a.m. to go to a "palm lick". Different parrot and macaw species need certain minerals in order to detoxify some of the toxins they take in with their daily food. In order to get these minerals they usually visit clay banks where they take in the clay "clay lick". In lack of such a clay in the area the parrots and Aras at Sandoval lake visit palm trees where they get the same minerals.
We were able to watch different parrot species and two blue-and-yellow macaws.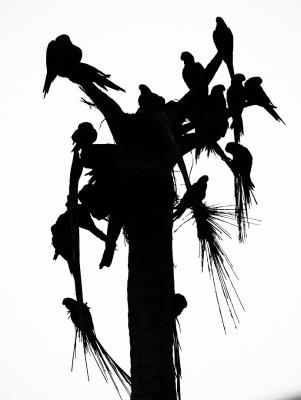 Lots of parrots gathering on one palm. Our guide told us this is also a social event for them, like a dating site.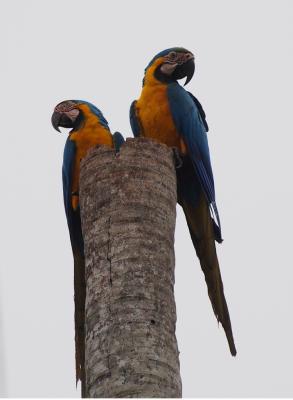 blue-and-yellow macaws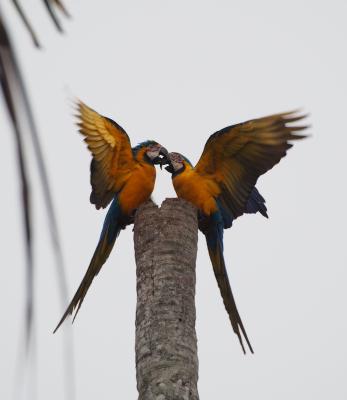 Macaws fighting
In the afternoon until the evening the cook Elmer took us fishing for piranas. We only kept the bigger ones and Elmer made them for dinner for us. Rather yummy, but not a lot of meat on them... We also had a great sunset over the water!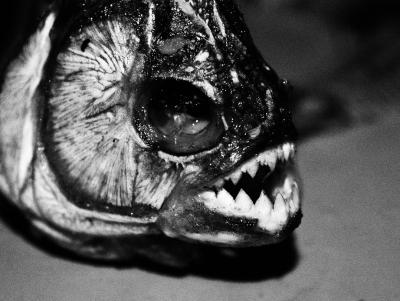 After being prepared for dinner...

Panoramic sunset views on the peacefull lake
The last day we had the morning off and I just lazily read my book. After dinner we were taken back to Porto Maldonado, were I took a shitty overnight bus to Puno at lake Titicaca. There will be a blogpost about lake Titicaca soon to follow...
... link (0 Kommentare) ... comment
Sonntag, 25. Dezember 2016
Inka Trail & Machu Picchu
zwinkerschaedel, 05:36h
I want to dedicate this post to my grandfather who passed away last week. He would have loved this trip with hiking, gorgeous scenery, 6 very different but each beautifull microclimates, mysterious Inca ruins and many more things for the photographers eye. During his funeral service I just arrived at the Inca Sun Gate where one gets the first glimpse on Machu Picchu, one of the new world wonders. I think he would have liked this.
The journey started on monday the 19th. We were picked up around 5a.m. in Cusco and drove the 2-3h to kilometer 82 of the railroad treks (2600m/8500 feet above sea level), the starting point of the Inka Trail. Here the Chaskies (porters) were all weighed to avoid overloading them. I had booked for 6kg to be carried by a Chaski and I still had my own backpack of 9.5kg (including 1.5l of water). I will never get the hang of light packing...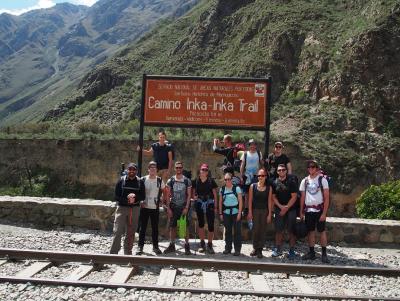 Starting our journey at kilometer 82.
We were a rather young group of 12 people between 23-32 years, 3 women and 9 men. We had 3 people from New Zealand, 4 Americans, 3 Germans, a Brit and a Swedish girl. Thankfully all were very social and we didn't have a lot of group formation. I was the second oldest by a margin and one of the slower ones (and not only due to my camera). But my fears of absolutely lagging behind were not confirmed. It didn't feel like someone ever really kept the group waiting. Leading the group was "Papa Freddy" with Nemesis "Pepe" as the second guide.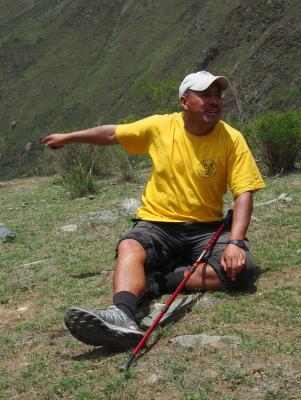 Papa Freddy
We were accompanied by the chef Benedicto and 16 Chaskies which all did an amazing job of packing up camp after we left a campsite, overtaking us, preparing real good food (especially for the circumstances) and having the campsite ready once we arrived at the next campsite. And each of them carried roughly 20-25kg of equipment, food, etc.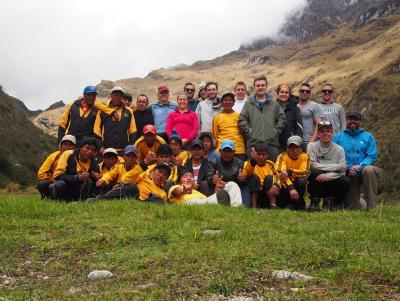 The whole group including the Chaskies
The first day was a nice warmup first following the Urubamba River taking it slow for the Chaskies to overtake us and have time to prepare lunch and later our first camp and dinner at Wayllabamba (3100m/10100 feet). On the way we stopped several times to admire Inka terraces and ruins, each accompanied by an explanation by Papa Freddy. The first campsite was the last village on the Trail and before dinner some of us joined a soccer game of the Chaskies and some local villagers.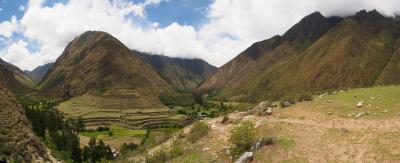 Some Inka Ruins on the way.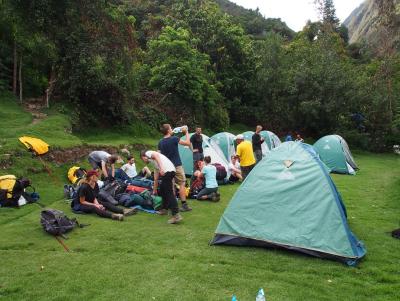 Our first campsite.
The second day was the most strenous day.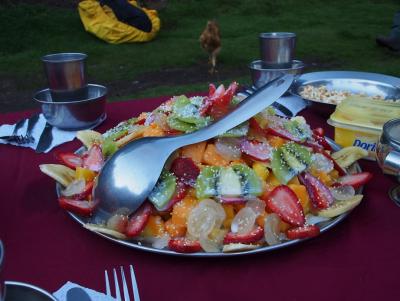 The first breakfast was by far the best, after that we didn't have fruit any more for breakfast.
After a opulent breakfast we started our ascend to Llulluchapampa (3850m/12500 feet) where we had lunch and rested a bit before the hardest part of the day, the climb of Dead Woman's Pass (4215m/13770 feet), the highest point of our trek. This was also the only time we had a slight steady drizzle for roughly 30min during the day on our trek. We were really lucky to not have any more rain during the day, just during the nights. And that during the beginning of the rainy season!!!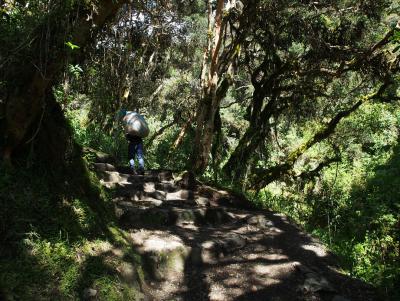 One of the Chaskies carrying his load.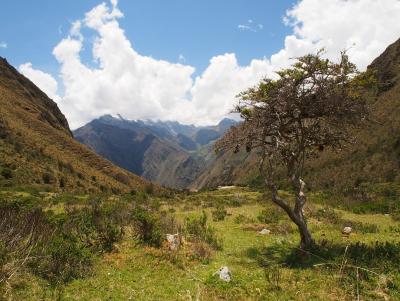 At Llulluchpampa, our lunchsite before climbing Dead Woman's Pass.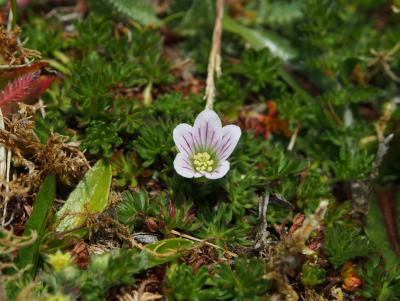 At the top we paid tribute to Patchamama (Mother Earth) with rocks we had collected at the valley, coca leaves and rum.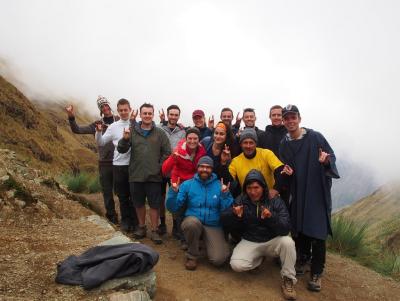 At top of Dead Womans Pass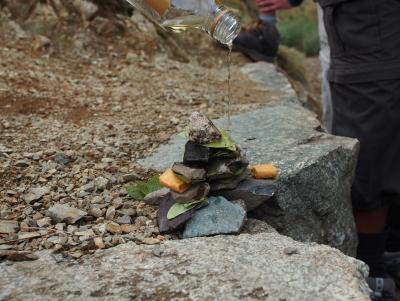 Paying Tribute to Patchamama for a safe journey towards Machu Picchu.
After that we continued along Inka ruins, mountain lakes and one more pass @ 3950m/12900 feet to our second campsite at Chaquiqocha (3680m/12000 feet).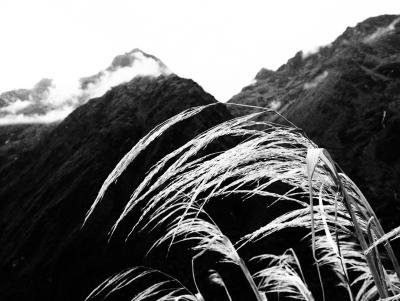 Andean grass, an important roofing resource.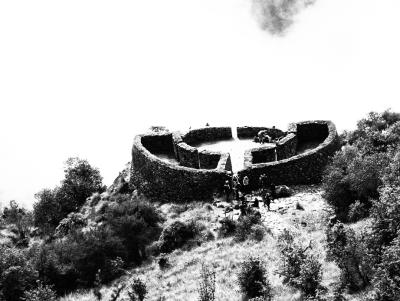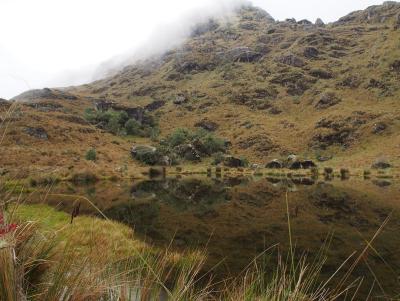 A mountain lake on the way.
Though the second day was physically the most strenous, I thought that the third day was the hardest due to having to descend almost 1000m on many many Inca steps. One particularly long stretch of quite steep steps has the name "Gringo Killer". It was also the longest day hiking, though in my opinion with the most beautifull scenery of the Cloud forrest and the beginning of the rain forrest. Very mystical with lots of moss, lichen and intensly strong colors of red, orange and green! our last campsite was Winay Wayna (2700m/8800 feet) where thanks to our fastest Chaski Franklin we got a sweet campsite close to the Trekker's Control. He had left our second camp early in the morning and got to the campsite as one of the first ones in the race for the best campsite.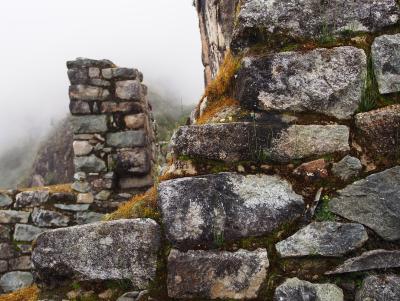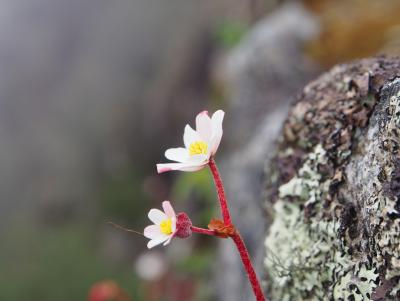 Flowers covering Inka ruins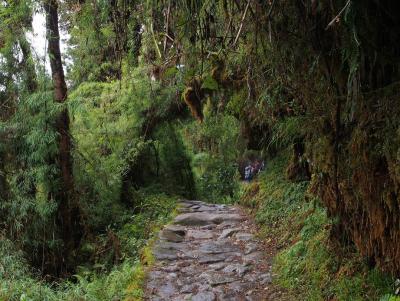 Thick foilage with lots of moss.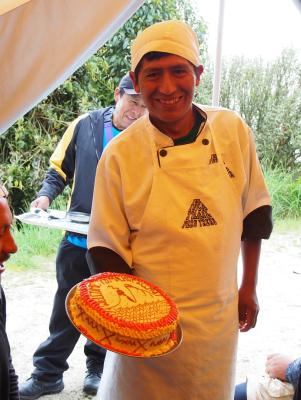 Big surprise after lunch: Chef Benedicto presented us with a decorated cake. Apparently the cake was steamed, not baked.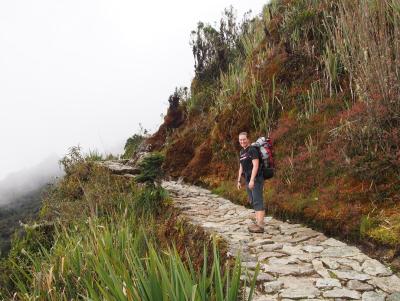 Intense colors reminding me of Scotland and Wales.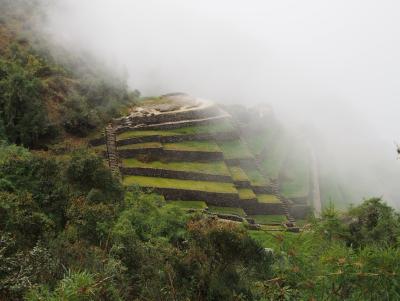 Inka ruins in the microclimate of the cloud forrest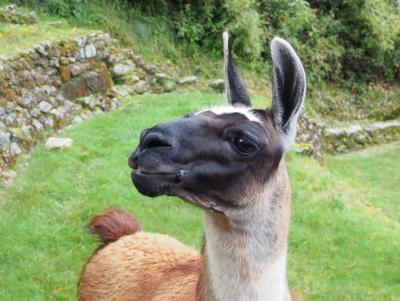 natural lawn mowers.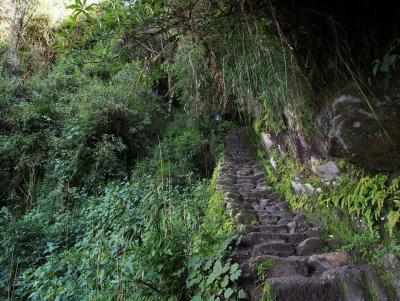 Part of the Gringo Killer
The last day started early, leaving the campsite at 3:45a.m. after a quick breakfast to then wait another 1.5h in line (we were the third group) at the Checkpoint (opens at 5:30a.m.) and then race off at a murderous pace (50min instead of the normal 1:20h) to the Sun Gate where we caught our first glimpse of Machu Picchu. We were one day off sommer solstice where the sun rises upon Machu Picchu almost exactly through the Inka Sun Gate. Unfortunately we were denied this sight due to clouds.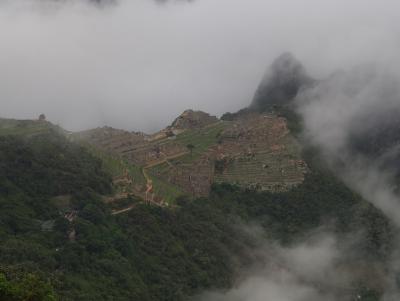 Machu Picchu from Sun gate
After that it was another 45min hike to Machu Picchu (2400m/ 7800 feet) itself where we stored our luggage and took a 2h tour with Papa Freddy. These ruins are just spectacular! Especially because everything is built on a mountain ridge and navigating through the ancient city involves lots and lots of more steps and steep inclines. I was the only one of the group to stay another night so I stayed in Machu Picchu and didn't join when the group left for Aguas Calientes (Machu Picchu Town) for lunch. We had a beautifull sunny day and I went crazy with the camera but also stoping every once (at a shady spot) to just admire the ruins, chill and even nap a bit.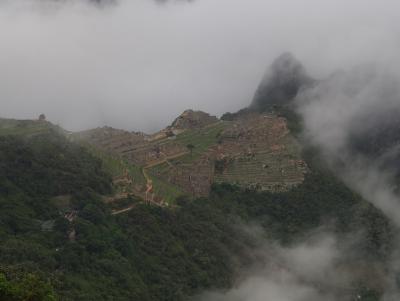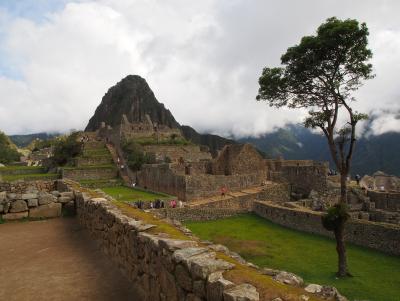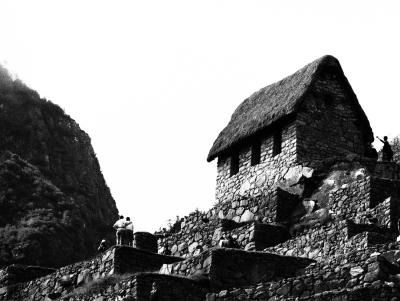 Gatekeepers Cottage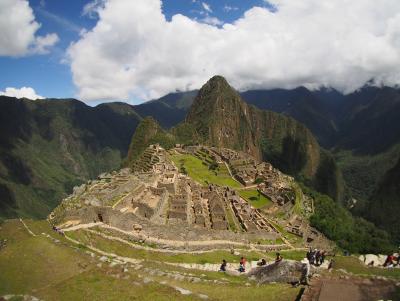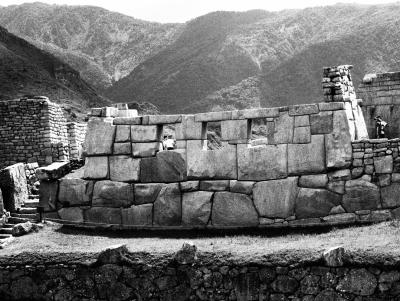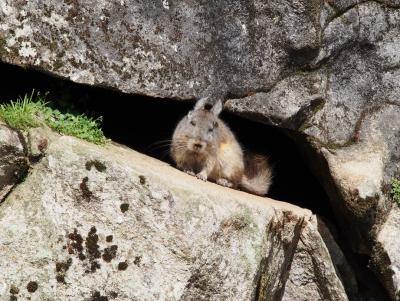 some large rabbit-like rodent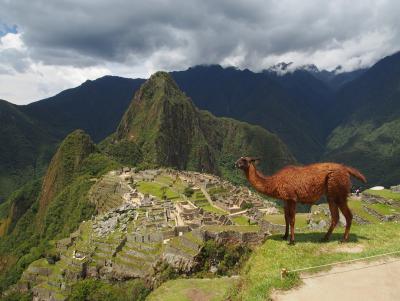 the classic Machu Picchu Picture with a lama... Had to do it.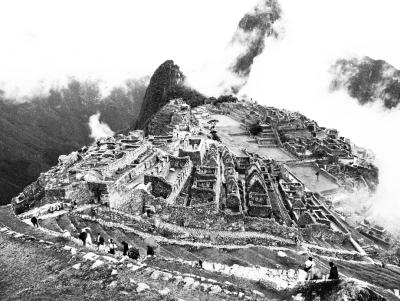 I left for Aguas Calientes (2000m/6500 feet) later in the afternoon. I had taken a freezing cold bath in a mountain stream in our second camp and an equally cold shower at the third camp so I was really looking forward to the hot shower at my hostel.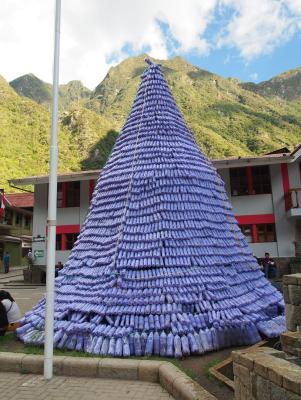 Christmas Tree at Aguas Calientes. Rather creative, isn't it?
The next day I took the bus up to Machu Picchu to then climb Montana Machu Picchu (3000m) in the morning. The weather was quite cloudy and foggy with on and off rain, perfect for the hike up, but ruining the view on Machu Picchu from above. The hike itself was still quite spectacular with narrow, steep and slippery Inka steps and steep dropoffs next to them (without the comfort of rails).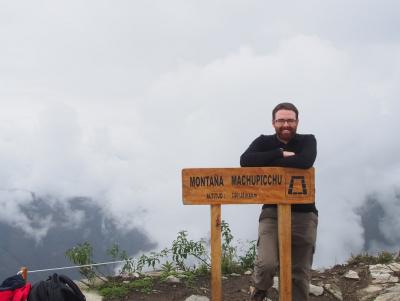 Up at Montana Machu Picchu. And no, I didn't pee myself, this is only mist collecting on my rain jacket, eventually wetting my pants.
Around noon I went down again and only walked aroud Machu Picchu for a short time due to the rain. I spent the afternoon in Aguas Calientes and then took the train to Ollantaytambo where I took a bus back to Cusco.
All in all a great experience, physically and a bit spiritually. I left lots of sweat on the trail and took with me one of the best experiences in my life so far. Now Christmas dinner with my Peruvian host family. Tomorrow (25th) I already leave for the next adventure: Tambopata (southern part of the Amazon area of Peru) and after that lake Titicaca.
I wish all of you a Merry Christmas and a Happy New Year! Thanks for sticking with me so far. The next post will most likely be in the nex year...
... link (0 Kommentare) ... comment
Montag, 19. Dezember 2016
Sacred Valley
zwinkerschaedel, 01:04h
Sacred Valley
This post describes actually two trips to the sacred valley that I did, one by public transport to Tipon together with two students from the language school and the other a tourist tour to the three ruins of Pisaq, Ollantaytambo and Chinchero. The Ruins of Moray and salt terraces of Maras (see earlier post) also are in the sacred valley.
Tipon:
This is a "water" temple containing many aquaeducts to honor Wiraqucha, the main god that created everything in the Incan mythology. He is representet by the main water body that is then split into two, the next two gods of the sun "Inti" and the moon "Killa" representing male and female. It then breaks down further and for example the 4 water fountains represent the 4 different elements fire, water, air and earth. If something is used with 3 then it usually represents the sky (represented by the Condor), the middle earth (maybe the mountains, represented by the Puma) and the lower earth (represented by the snake). It was also incredible to see the intricate aquaeduct system the Incas used to control the flow and velocity of the water. A very beautifull temple! We went rather late arriving only 1:15h before it closed and we had the place to ourselves with the gorgeous late afternoon light! Well worth the trip.
This is the main water display of the Incan cosmology.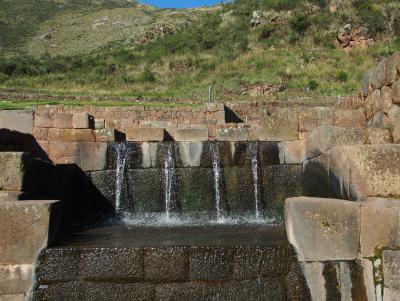 The representation of the 4 elements fire, water, earth and air.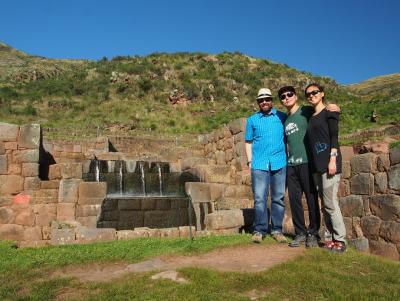 The Korean couple (they chose the "easier" names of Antonio and Tatiana for their travels in South Amercia) that I met at the language school. Two psychiatrists that I've really enjoyed spending time with!
Pisaq, Ollantaytambo and Chinchero:
This is the classic one day trip to the sacred Valley. It is somewhat of a "Kaffeefahrt" (for all non-Germans: this is a trip visiting some interesting place that is used to stop at "artistic" markets on the way to sell the tourists stuff on the way) and I think the tour company receives a provision for the market stops. Sadly that meant hardly enough time at the actual ruins with having to hurry through them and wasted time at markets. But at least the trip was cheap, 25 Soles (roughly 7 Euros) for the whole day (excluding food and entrance fees).
Pisaq:

Pisaq from the top of the ancient town looking down at the terraces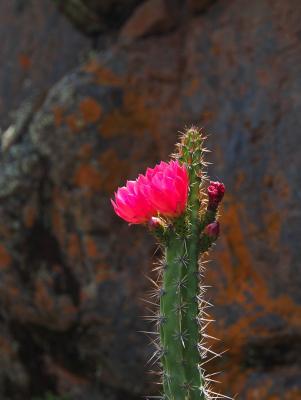 Cactus blooming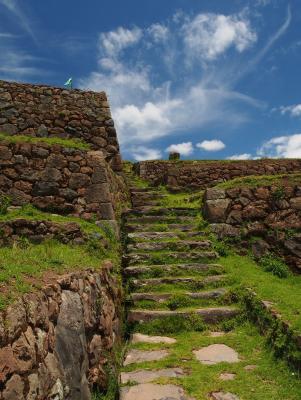 Steps between the many terraces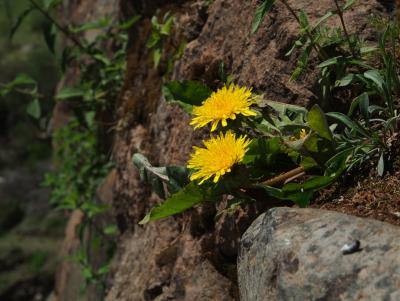 Nature reclaiming the walls

Again the terraces of Pisaq
Ollantaytambo: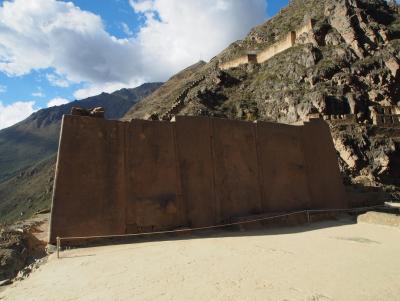 Monoliths of Ollantaytambo: They each weigh a couple of tons. Just imagine the knowhow and manual labor having gone into getting them first down one hill, across a river and then up another steep hill...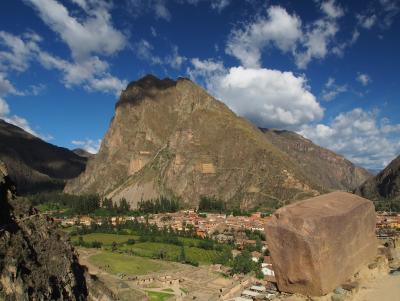 View from Ollantaytambo. On the other mountain you can see the storage houses. Also on the left side of the mountain one can make out (sorry, not with this small picture) a face silouette that is illuminated by the rising sun on a certain day of the year.
Chinchero: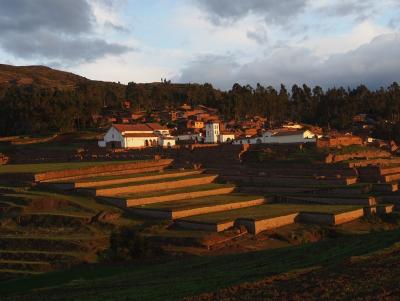 The ruins of Chinchero are undergoing major restauration at the moment so we could only observe them from afar. On top of them the Spanish built a very beautifull small church (late 16th or early 17th century, I believe). This was actually a highlight, especially because the decorations of the inside of the church is just fantastic and not as cheaply kitschy decor that I've encountered in most churches so far.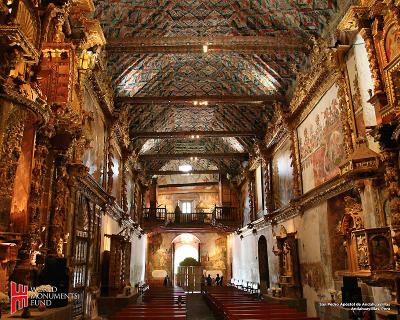 This is not a picture of mine (no photography allowed) but it shows you the beautifull interior with the intricate paintings all along the walls and ceiling.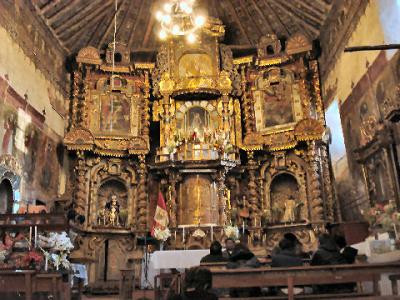 Chinchero Church Altar. Also not my picture.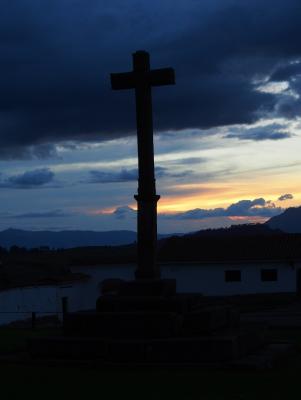 The cross outside the Chinchero Church in the waning sunset
... link (0 Kommentare) ... comment
Montag, 12. Dezember 2016
Moray and Maras
zwinkerschaedel, 06:12h
This very touristic half day trip had three stops. First we stopped at a place where they showed us how the wool of the alpaca is traditionally processed: 1. washing of the wool with the gratings of a certain root (natural soap), 2. choosing a dye for the wool (different natural products, including the mites of the cactus that I mentioned in an earlier post), 3. the weaving process. Quite interesting but also a chance to sell their products.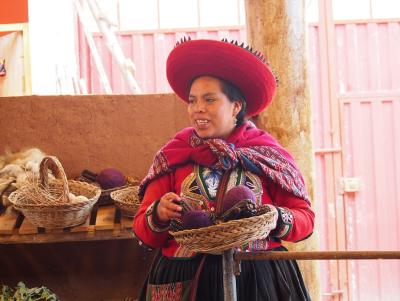 Woman explaining the the different plants used to dye the wool. Here she's holding maize morada which will give a violet.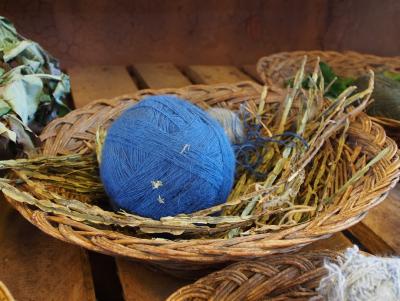 Blue wool.
Next stop were the ruins of Moray where the Inca had a "research facility" to test different ways to cultivate crops and important plants in small microclimates, especially corn, potatos and the coca plant. Stunning that through research the Inca were able to advance into a highly sophisticated Empire on the basis of developing proper food for their people!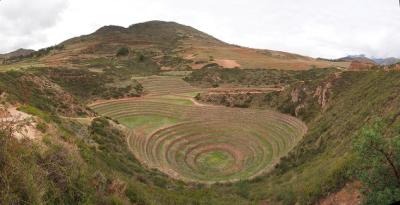 The terraces of Moray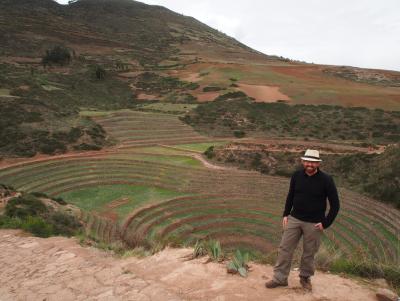 Selfie-time again!
Last Stop were the salt terraces of Maras were the salty water coming out of the mountain is lead through intricate saline ponds to fill them with water and then to seal them of in order for the salt to cristalize once the water evaporates under the sun. Brilliant and basic at the same time!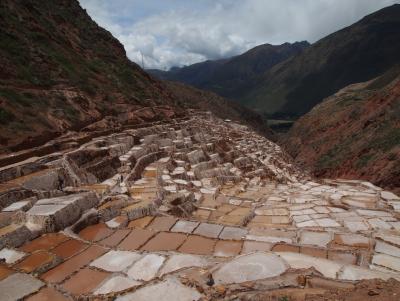 Apparently there are over 3000 salt terraces here.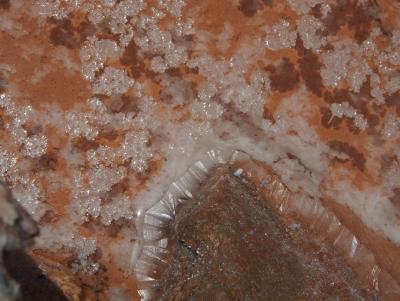 Salt crystals forming. Beautifull!!!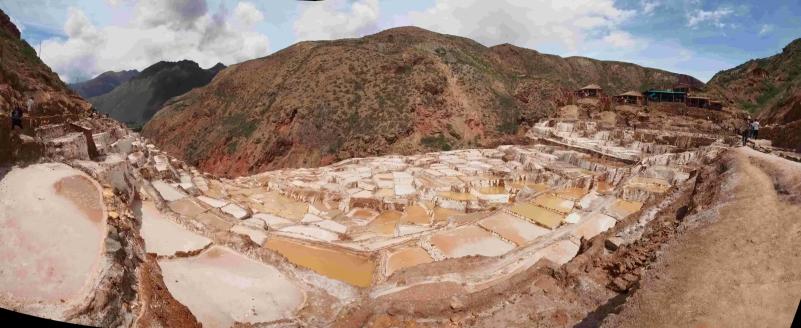 Can anyone see the glitch my Panoramic program made? Tipp: you have to open the picture itself.
... link (0 Kommentare) ... comment
Rainbow Mountains
zwinkerschaedel, 05:29h
The Rainbow mountains is a rather "new" (for roughly two years, not mentioned in lonely planet yet) tourist attraction and has only been "rediscovered" due to melting snow and glacier caps that used to cover these parts of the mountains. The different colors result from different sediments of minerals (e.g. green = copper). These mountains are quite high and I've never pushed my limits so far. You get picked up @ 3 a.m. driving three hours to have breakfast before starting the journey. The starting point of the hike is roughly at 4300m and you hike for about 3h to the top at 5100m. The way up I did it all by myself but I ended up being one of the last ones in the group even though I didn't take that many pictures and I was thoroughly drained at the top. For the first half hour we had sun, but after that it got cloudy and near the top it even snowed slightly (not enough to stay on the ground). Being one of the last ones at the top I was rather rushed by the guides to return back and couldn't take my time for the fotos. I can tell you though that the place is pretty spectacular (if the fotos don't convince you).
To save time and to save my knees I took a horse for the way down (50 Soles, roughly 14 Euros) which was quite a pleasant experience. If I decide to go there again I would take a horse the way up. In summary a very interesting trip both for the scenery and also for getting to know the limits that I can push my body. This was the first time hiking above 4000m and the first time ever being above 5000m.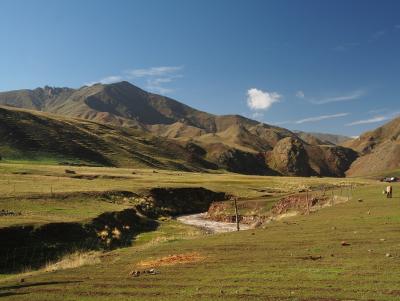 Beautiful landscape!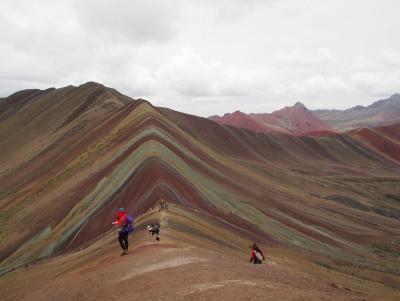 The top of the famous Rainbow Mountains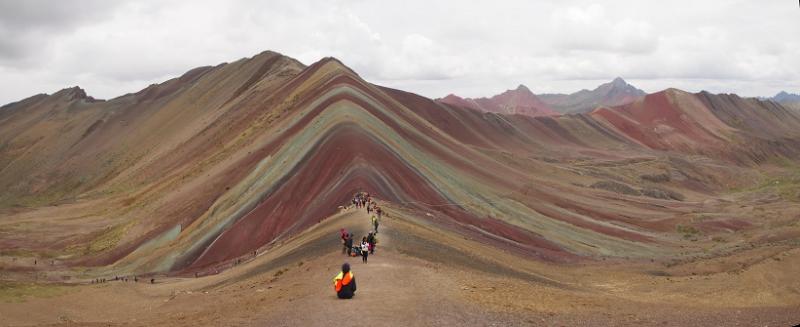 Panoramic view (you might have to view the picture in the pictures section to view it in full)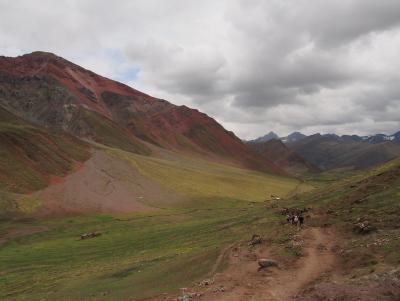 Already on the way the colors of the mountains are quite stunning!
... link (0 Kommentare) ... comment
Cusco
zwinkerschaedel, 05:17h
I have already been one week in Cusco and still haven't posted anything about Cusco. I arrived last week saturday morning and was brought to a host family here in Cusco. I changed the family the next day because I didn't feel welcome at all and they didn't have internet. The new host family was a lot more welcoming.
The language school here is quite good with the teachers being almost as good as in Arequipa but with more activities (wednesday: food night where we went to a restaurant together; thursday: salsa class and friday: sometimes small cooking class). All together a good choice.
Cusco itself is a very touristic place with lots of stuff to do in the area. You can find tour operators on every corner close to the main square, the Plaza de Armas. This is also a shoppers dream for souveniers. Especially wool clothing in different qualities and price ranges (sadly you are being ripped off quite some times if you don't know the real value). I'm a bit sad that this is the beginning of my trip because I would do some serious souvenir shopping here if I didn't have to take all of it along for another two months... But maybe it's better this way.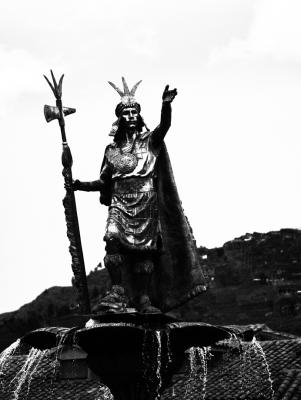 This is a statue standing in the middle of a fountain in the main square Plaza de Armas.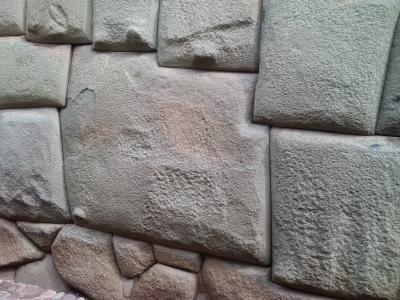 This is the famous twelve-angled stone in one of the small alleys of Cusco. It shows the great craftsmanship the Incas had to exacty fit this stone into a wall.

These are the ruins os Sacsayhuaman on one of the hills of Cusco. Unfortunately the Spanish destroyed it partly to pilfer the stones in order to build their own Churches and Cathedral.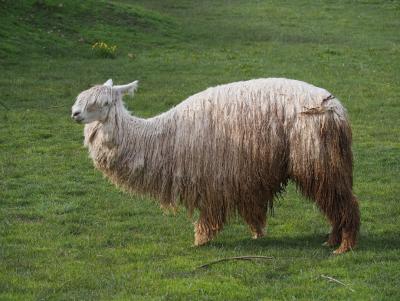 Either a Lama or a mix between Alpaca and Lama.

Cusco from a lookout at Sacsayhuaman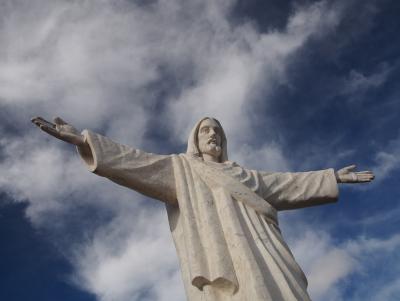 Cristo Blanco is a Statue right next to Sacsayhuaman and is beautifully lit up at night to be seen at the Plaza de Armas.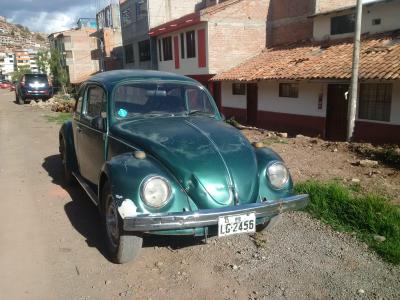 The Volkswagen Beetle is a very common car here. I easily counted 15-20 in one day walking only a bit around.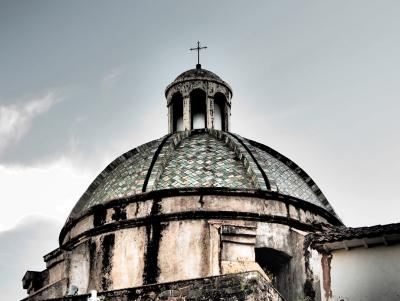 The General Cemetary of Almudena is a curious place for us Europeans. The way how death and burial is dealt with is different and sometimes (at least for me) comical. The sites where the urns are kept have a small showcase that the family would fill with however they want the beloved one to be remembered. That usually includes a photo of the beloved one and some religeous figure, e.g. of a saint or of one of the Marys (different versions of Mary exist here to deal with the different aspects of her life and the meaning to christianity). But it usually also includes things the person liked (quite often a miniature bottle of beer) and some sort of moving thing. These are usually solar-powered smal figures of ducks, flowers, santa clause, etc that bob their head or wiggle in some sort of way. Very funny!!!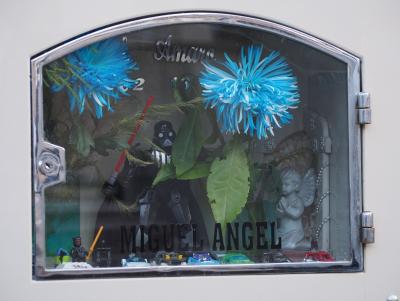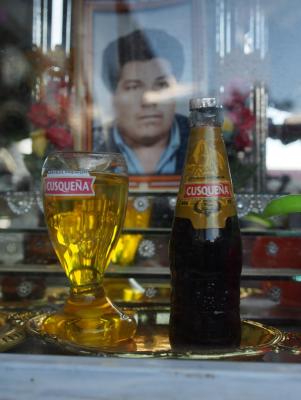 This guy apparently loved his Cusquena (a local beer brand).
... link (0 Kommentare) ... comment
Food
zwinkerschaedel, 04:49h
As many of you know I do like good food and I've been having plenty of that here in Peru so far.
My favorite so far has been Ceviche, a traditional fish dish where pieces of raw fish are marinated in lime juice and spices for a while. The acid of the lime juice denaturates the fish with the result of it almost being "cooked". Real yummy!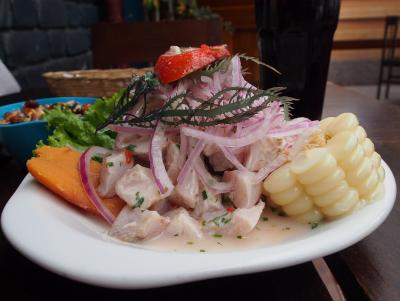 Ceviche in Cusco
The other famous dish is of course the "cuy" (guinea pig). I tried this in a local Picanteria in Cusco and it tasted quite nice. Not special enough to make my most favorite list but good.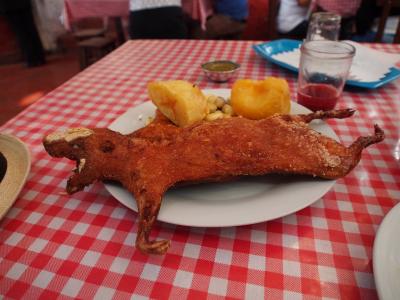 Usually the whole cuy is prepared, sometimes even with the intestines (thoroughly cleaned before, I hope) filled with stuff (e.g. potatos)
This is a special kind of corn used to make a very delicios non-alcoholic drink: Chicha morada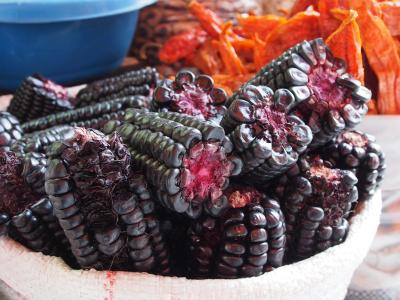 The corn is cooked in water together with spices (e.g. cloves & cinnamon) and then sugar (or another sweetener) and lemon juice is added. Very refreshing!
Other good peruvian foods have been Choclo con Queso (huge white corn served together with cheese), Lomo saltado (meat sautéed together with peppers, onions and spices, served with rice or fries), Chicharron de Chancho (deep fried pork), Rocotto releno (spicy pepper stuffed with meat, cheese, etc. served with potato-cheese-casserole, of course the before mentioned Aticuchos (thin slices of beef heart barbecued on saté sticks) and realy yummy broth soups (e.g. with Quinoa).
... link (0 Kommentare) ... comment
Samstag, 3. Dezember 2016
Colca Canyon
zwinkerschaedel, 03:41h
Last weekend I traveled to the Colca Canyon, apparently the second deepest canyon in the world. It was a very strenuous but absolutely worthwhile trip! I did the trip together with Nate and Anna, a very nice American couple that also study @ the language school in Arequipa.
On the first day I was picked up @ 4:00 a.m. in Arequipa to drive the roughly 3-4h to Chivay, one of the towns on top of the Colca Valley. There we stopped briefly for a meager breakfast before going on to Cruz del Condor, a famous lookout with a nice drop-off into the beginning of the Colca Canyon. Here the huge condors use the morning updrafts to soar close by. Unfortunately we got there late (around 9:30 a.m.) and we didn't see any condors. Whether we were just unlucky or late, nobody will ever know... After that we drove a bit further to our starting point of the trek. Our trekking group consisted of 10 people: The American couple, 4 people from Majorca, Spain, a Mexican and a Canadian girl, an Israelian and me. We descended roughly 1200m into the valley to the first "oasis", our resting place for the day where we arrived for lunch around 1:30p.m. After that we had free time to do whatever. I went out exploring a bit more and taking some pictures. After that, a shower that felt realy great and dinner before we went to bed early.

The famous Cruz del Condor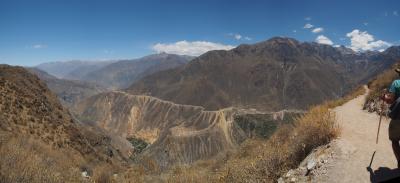 View on the way of day two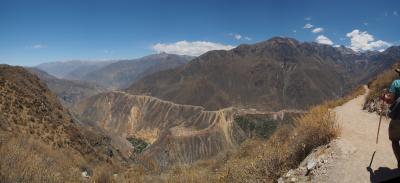 Same Picture with the way marked in red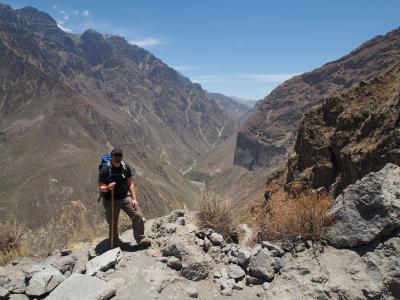 Posing on day one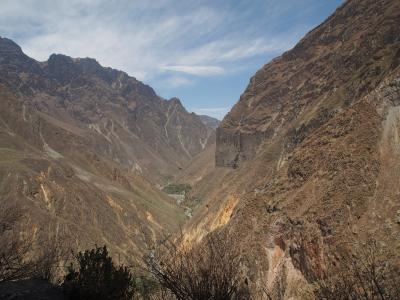 barren canyon walls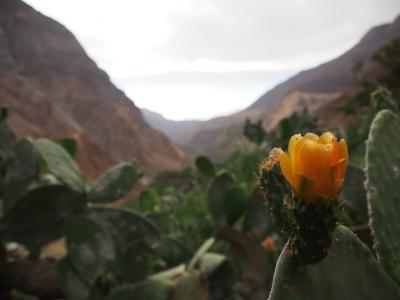 lots of cactus in Bloom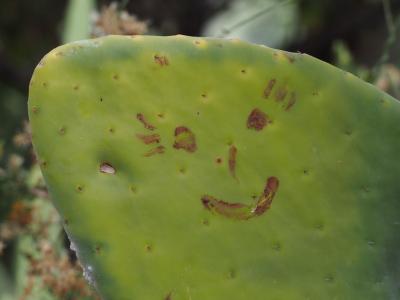 lots of the cactus had white stuff on them which turned out to be mites (Milben). If you Squash them they make a very red color that the Incas used as a natual lipstick. Someone used them to draw this Smiley.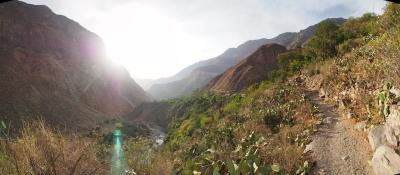 almost sunset on day one
Second day: After a good breakfast we started our walk around 8:30a.m. and first ascended around 150m to walk through one of the bigger settlements and then descend again to the second oasis where we again arrived around 1:30p.m. for lunch with free time afterwards. I descended the last roughly 30m to the river to marvel at the lush green everywhere with different fruit bearing trees like mango and avocado. Then a quick dip in the pool before dinner followed by just talking amongst ourselves before going to bed early.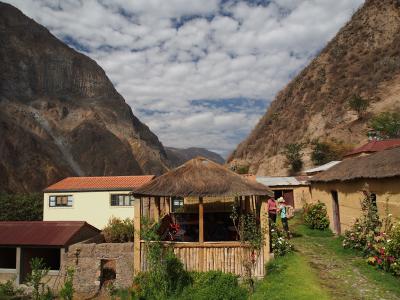 morning of day two in the small oasis with a gorgeous view.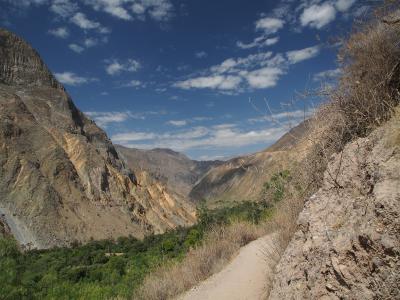 like having been painted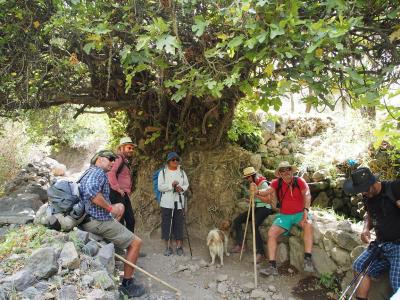 Resting. The guy in the middle with the blue hat was our guide and the dog had been following us from the middle of day one.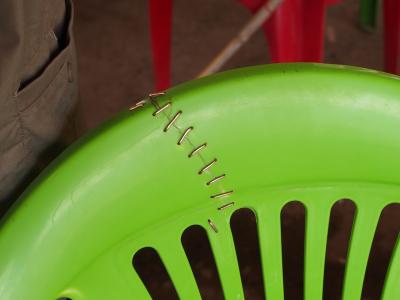 clever way of fixing stuff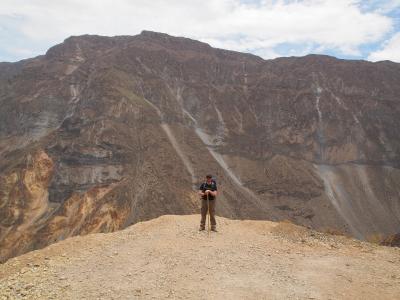 posing on day two

terrace farming, already used by the Incas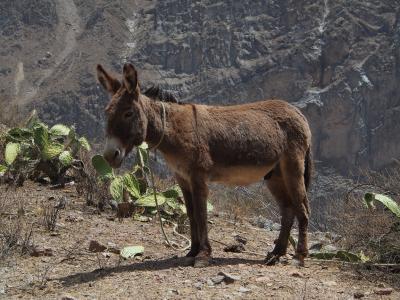 local "taxi"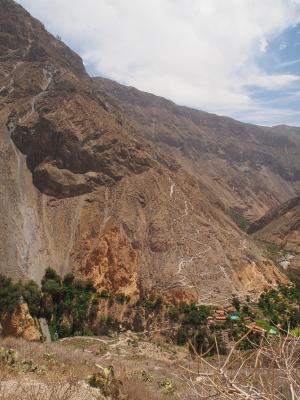 The way up for day three... You can just barely make out the top (left upper corner of the picture where there are some trees)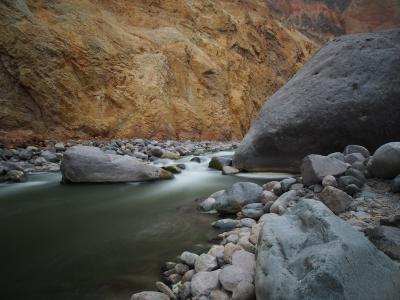 The river as a steady flowing force having carved this deep canyon (long exposure using a strong grey filter)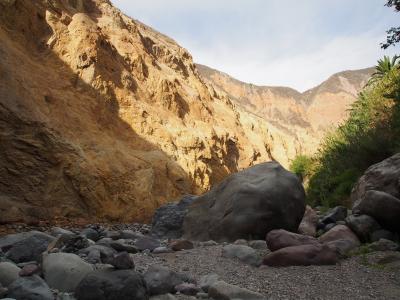 The sun starting to fade in the bottom of the canyon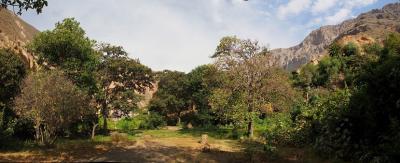 lush orchard
Last day: Getting up @ 3:45 a.m. to start our grueling ascend @ 4:45 a.m. to the top of the plateau, roughly 1100-1200m. We started this early to walk in the shade to avoid adding the heat of the sun to the already strenuous ascend. Two of our group didn't ascend with us but took a local taxi (= a donkey or a mule). It took me roughly 2:45h to the top. In the beginning it was the muscles that hurt from the day before and towards the end it was the shortness of breath due to the altitude. After a good breakfast we headed on to do a "japanese tour" as our guide called it, stopping at places to quickly get out and take some pictures. Most of us were tired though and just wanted to get back to Arequipa, including me. We finally got back @ 5:30p.m. But all in all a good trip with gorgeous scenery and a good trial run for the Inca trail to come in Cusco (4 days of hiking towards Machu Picchu).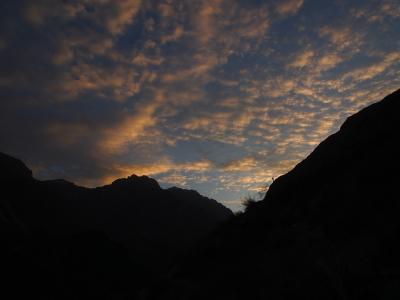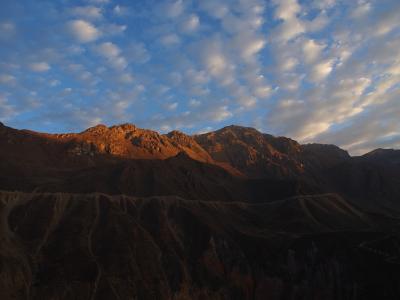 Sunrise on the last day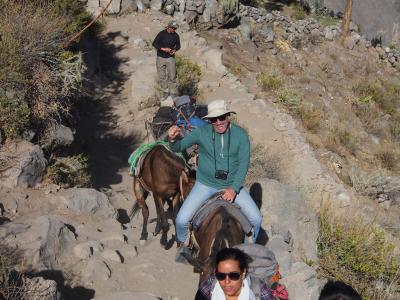 Cheating...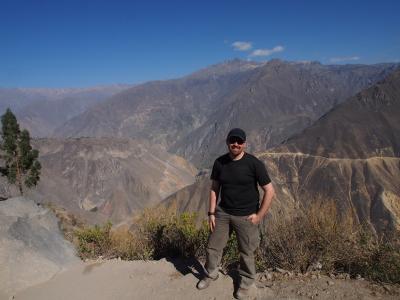 Last pose (tired, dirty,...)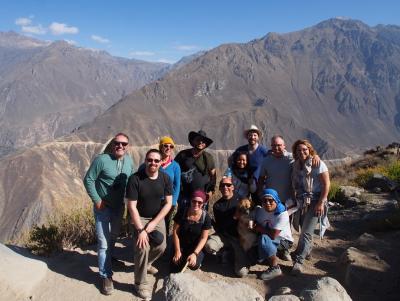 Our group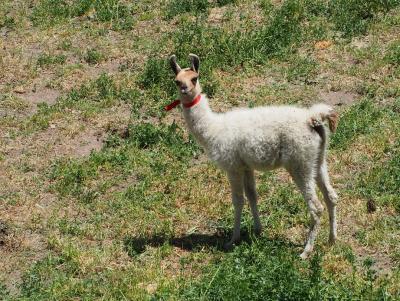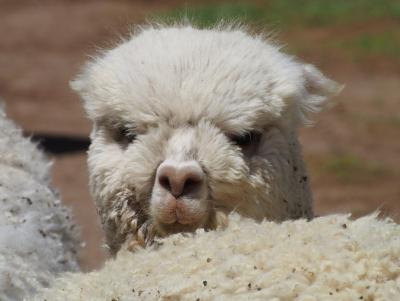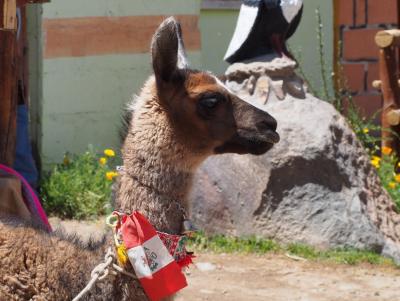 Three of the indigenous cameloids: 1. Vicuna, 2. Alpaca, 3. Llama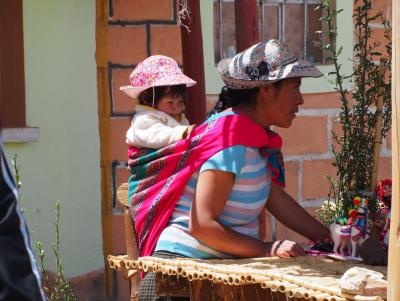 A street vendor
... link (0 Kommentare) ... comment
Freitag, 2. Dezember 2016
Last days in Arequipa
zwinkerschaedel, 13:18h
My time in Arequipa is coming to an end, in 1.5 days I'll be flying to Cusco.
I've learned a lot of Spanish here with two more weeks of Spanish school to follow in Cusco. Arequipa is a realy nice city to just stroll around and look at the historic buildings around the main town square. I've spent less time in the city center than I would've liked, but instead I've spent more time with Maria and Sonja, my new Peruvian "family" which was fascinating and enriching. I'm kinda sad to leave Arequipa now that I know my way around a bit
In Cusco I'll be staying with a Peruvian family that probably won't speak English and I hope this will accelerate my learning Spanish even more.
... link (0 Kommentare) ... comment
Samstag, 26. November 2016
Plaza de Armas
zwinkerschaedel, 02:32h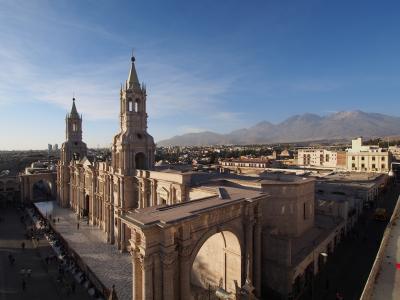 The Plaza de Armas is the main square of the old city Center with the Cathedral lining one side of the square. They banned traffic so you can just walk around and take in the beautiful buildings. Especially at night, when the buildings are lit up.
... link (0 Kommentare) ... comment
Freitag, 25. November 2016
Cathedral of Arequipa at night
zwinkerschaedel, 01:10h

... link (0 Kommentare) ... comment
Chachani
zwinkerschaedel, 01:06h

This is the vulcano Chachani, one of the three vulcanos surrounding Arequipa. It is just over 6000m high.
... link (0 Kommentare) ... comment
Dienstag, 22. November 2016
first days in language school
zwinkerschaedel, 22:03h
I never thought, I'd be having a school-like situation any more, but here I am, studying Spanish for 4 hours every morning during the week. I only had 2 days of classes so far and already I am drained at the end of the classes every day... Don't get me wrong, the classes are great and I am enjoying them and am learning a lot! But needs getting used to...
I am still fighting with jet-lag, waking up every morning @ 3-4a.m. for the first time and 5:30-6:30 a.m. for the second time, not being able to sleep after that. I guess that and the altitude (Arequipa is appox. 2300m high) also explain part of my fatigue.
I am living together with Maria, the owner of the language school and her 14 year old daughter Sonja (one other daughter is on exchange in Germany right now) and an American (a backpacker passing through Arequipa) in a small two-story house that also includes the rooms for the language school (the first floor).
Maria is very hospitable and seems to provide for all my needs. The meals are real good and plenty. My favorite peruvian meal so far (though we ate it at a small restaurant) was "antecuchos" which is grilled heart (beef) served on kebab sticks. Really yummy!!! But I still have to try Ceviche, a fish dish that most travel guides and the few foreigners that I met so far have strongly recommended as the best peruvian dish.
At the language school I met two students from the United States that also started classes on monday and will be staying for two weeks in Arequipa, same as me. They are really nice and I think I might be spending some of my free time with them. For example we might do a tour to the Colca Canyon (second deepest canyon of the world famed for its beautiful countryside with dry highlands terraced slopes and valleys and its condors, roughly twice as deep as the Grand Canyon) this weekend. I hope I'll be able to take some nice pictures there and post some.
... link (0 Kommentare) ... comment
Samstag, 19. November 2016
zwinkerschaedel, 22:31h

View from my balcony of my room @ the spanish school in Arequipa
... link (0 Kommentare) ... comment
zwinkerschaedel, 22:28h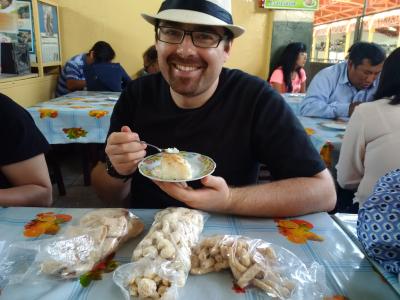 Eating some queso helado, a handmade ice cream with milk, eggwhite, cinnamon and sugar. It is made in a big metal Bowl that is rapidly turned in an ice bath. Very yummy!
... link (0 Kommentare) ... comment
Arrived safely
zwinkerschaedel, 04:47h
Now, 24h after starting my journey, I arrived in Arequipa, Peru. I was being collected by Maria, the owner of the language school, that I will be attending for the next 2 weeks, and her daughter Sonya. I will be staying in their home for those two weeks.
I am dead tired and will soon go to bed after a quick shower.
... link (0 Kommentare) ... comment
Freitag, 18. November 2016
Ready to go...
zwinkerschaedel, 06:47h
Checked in, waiting for the first of my three flights.
Starting to get excited!
... link (0 Kommentare) ... comment
Donnerstag, 17. November 2016
last 24h before flying
zwinkerschaedel, 10:12h
Dear friends,
this will be a blog about my South America Trip from the 18th of November until the 14th of February 2017. During that time I will be most likely available via email or whatsapp. First stopp will be a 4 week Spanish language course in Peru.
I hope you will enjoy this blog, especially the pictures to follow...
Your Jonas
... link (0 Kommentare) ... comment