Mittwoch, 11. Januar 2017
Lake Titicaca
zwinkerschaedel, 04:45h
As written earlier this journey started right after the amazing experience at Lake Sandoval in the Amazon basin with a shitty bus ride to Puno. Actually not directly to Puno, but to Julianca a city about 30min from Puno where I had to change to a minitaxi. The local travel agency in Porto Maldonado had not booked the journey directly to Puno but to Julianca... So I arrived after a night with only very little sleep to only see the huge amounts of trash next to the street on the short way from Julianca to Puno. Arriving at Puno it was no better: Lots of trash everywhere with smelly sewers, something I had only rarely encountered to this extend here in Peru before. This was more like South East Asia... Thankfully I had planed a days rest in Puno in a "hotel", which I used to the full extend to sleep, watch movies and just recuperate. This was December 31st and I was able to speak to my family and some friends before midnight in Europe. I had a bit of troubles with altitude sickness (Lake Titicaca is at 3810m) in addition to lack of sleep so I went to bed early that day to wake up to the fireworks, watch them a bit from my hotel window and then go back to sleep.
The next day I was collected to go on the classic two day tour to the two natural islands of Amantani and Taquile with a quick stop on the way on one of the floating artificial islands of the Uros people, a tribe that has been living on these artificial islands for hundreds of years.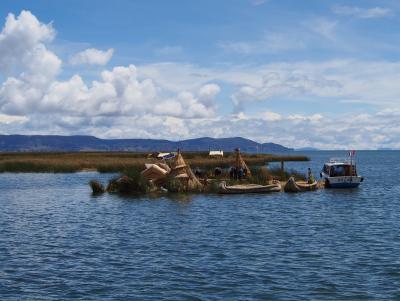 This is such a floating island. They used to be "nomads" living of the lake by fishing, collecting eggs of the many water birds here and "harvesting" the reeds for consumption. Nowadays their main income are the many tourists that visit them every day...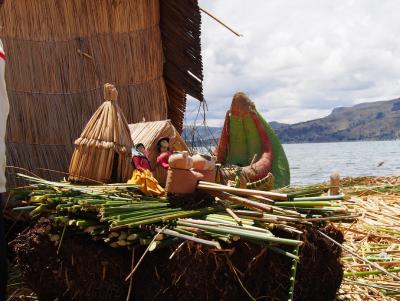 This picture shows a minature model of such an island. The base is composed of squares of reed grass roots that float and are strung together to then be covered by more reeds in overcrossing patterns to give it stability.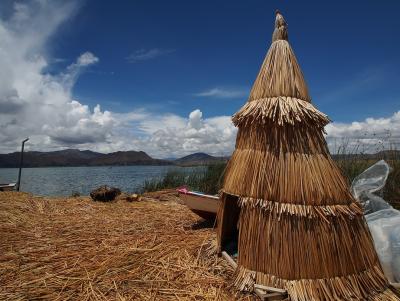 On it they build their houses of reeds. Usually one island holds one clan, maybe two to four small families.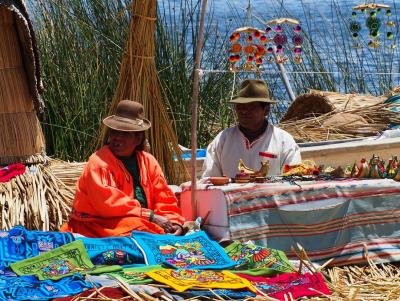 The chief and his wife of the small floating island we visited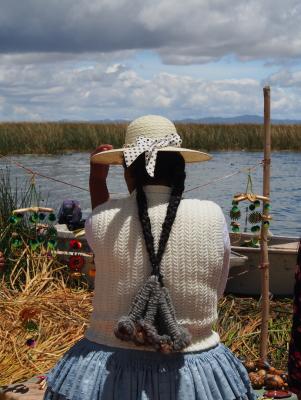 This picture showes a member of our "tourist" group that was actually from Peru and is a good representation of the local dress attire and hairstyle of women in the southern highlands of Peru. You'll find pictures like this in every guide book to Peru.
After one hour on the floating we took the slow two and a half hour boat ride to the island of Amantani. Here we stayed with local families. In the late afternoon we took a three hour hike to the top of the Island (at 4100m you could feel the thin air again...) to look at two ruins before retourning to the families. I really liked the landscape of Amantani, very peacefull and quiet!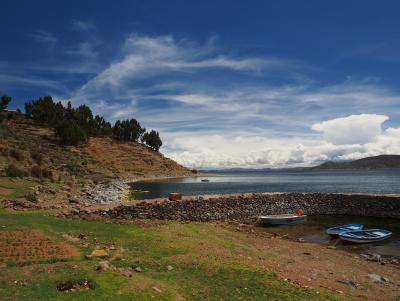 Amantani harbour

View on the lake

On top of Amantani
On the way back home we passed the main square where the islanders were celebrating the new year with lots of music and lots of cervesa (beer). After dinner we were dressed up in traditional clothes to then meet at some local community center to dance and celebrate with the other tourists, also dressed up. Only that we (the three of the 30 of our group that stayed at one family) were the only ones to show up, so after 30min we went home again (thankfully since I was pretty tired).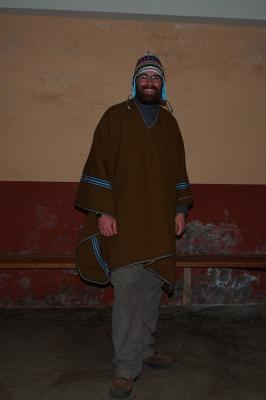 Me in a traditional hat and Poncho.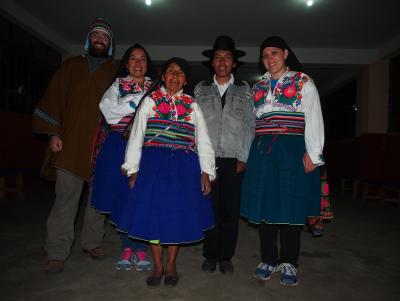 The host mum with her son and the two Columbian tourists that also stayed at the same family.
The next day we left early for Taquile another small island with the famous "weaving men". Here men have been weaving special garments for a long time producing their special very colorful attire. But that was also the only interesting thing about the island and I was actually happy when we were on our way back to Puno.
All in all I wasn't all that impressed with this part of my trip, but to be fair, I think I had the "travelling blues" that continued for the next few days in Cusco (two days after taking the overnight bus again from Puno) and also these past days.
... comment