Montag, 12. Dezember 2016
Cusco
zwinkerschaedel, 05:17h
I have already been one week in Cusco and still haven't posted anything about Cusco. I arrived last week saturday morning and was brought to a host family here in Cusco. I changed the family the next day because I didn't feel welcome at all and they didn't have internet. The new host family was a lot more welcoming.
The language school here is quite good with the teachers being almost as good as in Arequipa but with more activities (wednesday: food night where we went to a restaurant together; thursday: salsa class and friday: sometimes small cooking class). All together a good choice.
Cusco itself is a very touristic place with lots of stuff to do in the area. You can find tour operators on every corner close to the main square, the Plaza de Armas. This is also a shoppers dream for souveniers. Especially wool clothing in different qualities and price ranges (sadly you are being ripped off quite some times if you don't know the real value). I'm a bit sad that this is the beginning of my trip because I would do some serious souvenir shopping here if I didn't have to take all of it along for another two months... But maybe it's better this way.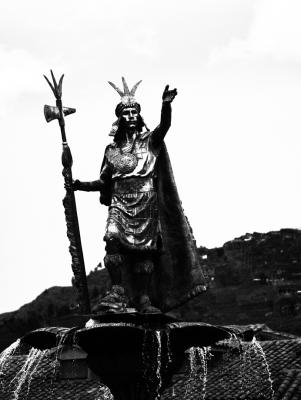 This is a statue standing in the middle of a fountain in the main square Plaza de Armas.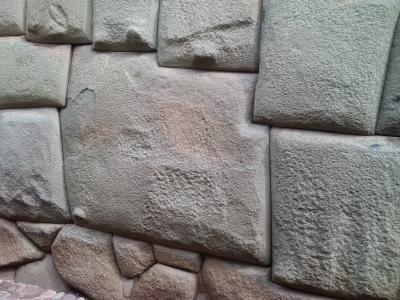 This is the famous twelve-angled stone in one of the small alleys of Cusco. It shows the great craftsmanship the Incas had to exacty fit this stone into a wall.

These are the ruins os Sacsayhuaman on one of the hills of Cusco. Unfortunately the Spanish destroyed it partly to pilfer the stones in order to build their own Churches and Cathedral.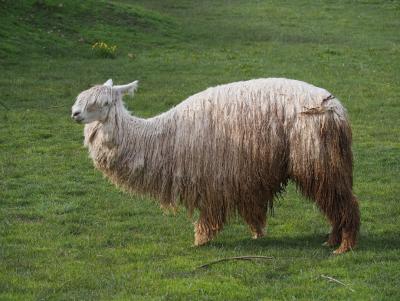 Either a Lama or a mix between Alpaca and Lama.

Cusco from a lookout at Sacsayhuaman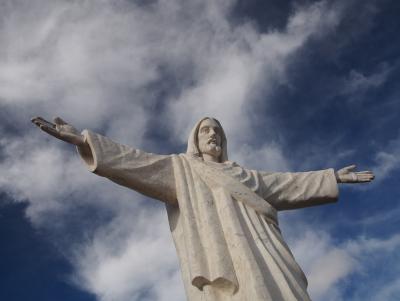 Cristo Blanco is a Statue right next to Sacsayhuaman and is beautifully lit up at night to be seen at the Plaza de Armas.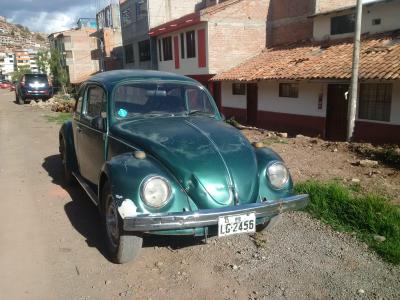 The Volkswagen Beetle is a very common car here. I easily counted 15-20 in one day walking only a bit around.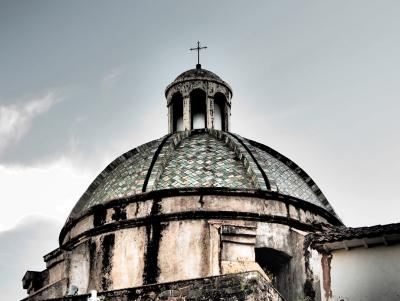 The General Cemetary of Almudena is a curious place for us Europeans. The way how death and burial is dealt with is different and sometimes (at least for me) comical. The sites where the urns are kept have a small showcase that the family would fill with however they want the beloved one to be remembered. That usually includes a photo of the beloved one and some religeous figure, e.g. of a saint or of one of the Marys (different versions of Mary exist here to deal with the different aspects of her life and the meaning to christianity). But it usually also includes things the person liked (quite often a miniature bottle of beer) and some sort of moving thing. These are usually solar-powered smal figures of ducks, flowers, santa clause, etc that bob their head or wiggle in some sort of way. Very funny!!!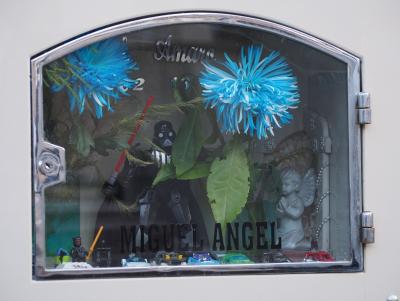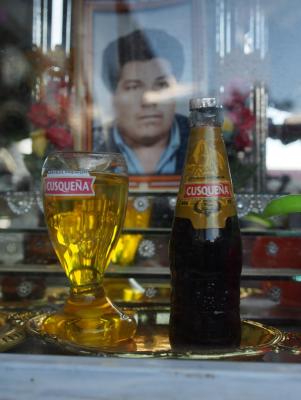 This guy apparently loved his Cusquena (a local beer brand).
... comment