Montag, 12. Dezember 2016
Food
zwinkerschaedel, 04:49h
As many of you know I do like good food and I've been having plenty of that here in Peru so far.
My favorite so far has been Ceviche, a traditional fish dish where pieces of raw fish are marinated in lime juice and spices for a while. The acid of the lime juice denaturates the fish with the result of it almost being "cooked". Real yummy!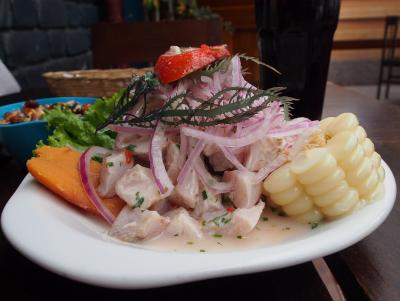 Ceviche in Cusco
The other famous dish is of course the "cuy" (guinea pig). I tried this in a local Picanteria in Cusco and it tasted quite nice. Not special enough to make my most favorite list but good.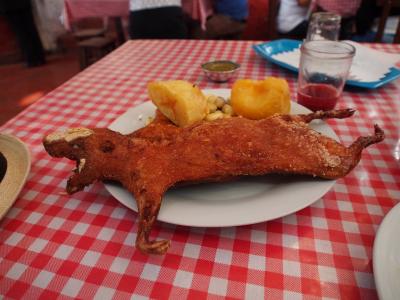 Usually the whole cuy is prepared, sometimes even with the intestines (thoroughly cleaned before, I hope) filled with stuff (e.g. potatos)
This is a special kind of corn used to make a very delicios non-alcoholic drink: Chicha morada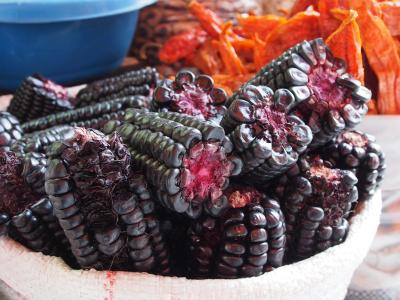 The corn is cooked in water together with spices (e.g. cloves & cinnamon) and then sugar (or another sweetener) and lemon juice is added. Very refreshing!
Other good peruvian foods have been Choclo con Queso (huge white corn served together with cheese), Lomo saltado (meat sautéed together with peppers, onions and spices, served with rice or fries), Chicharron de Chancho (deep fried pork), Rocotto releno (spicy pepper stuffed with meat, cheese, etc. served with potato-cheese-casserole, of course the before mentioned Aticuchos (thin slices of beef heart barbecued on saté sticks) and realy yummy broth soups (e.g. with Quinoa).
... comment